Interpretation design – what's not to enjoy?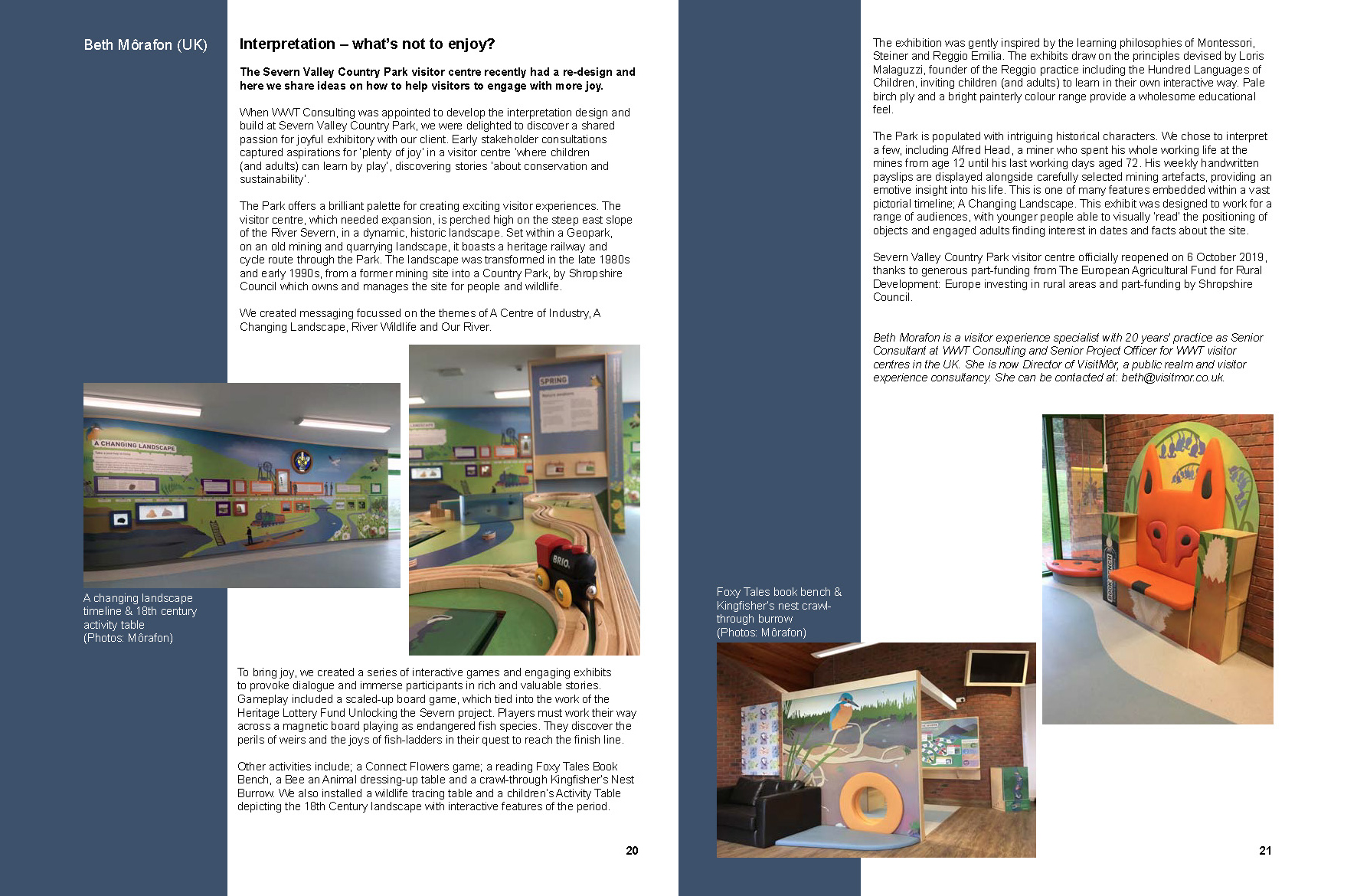 VisitMôr writes interpretation design paper for Interpret Europe (IE)
VisitMôr Director Beth Môrafon discusses her approach to interpretation design at Severn Valley Country Park in Shropshire. In her paper, in the Interpret Europe Newsletter, she described her approach to creating joyful visitor experiences for all.
Severn Valley Country Park
Stakeholders wanted the new visitor centre to be a place where families could learn together about conservation and sustainability through playful interpretation design. And putting "plenty of joy" into the space was one of their main aspirations. Whilst employed by WWT Consulting, Môrafon was the lead designer, devising a way to create magical places for families to learn together. Working with a small team, she shaped the interpretation design from concept to completion.
Learning through playful interpretation design
In the article, Môrafon highlighted that her designs were inspired by the philosophies of Montessori, Steiner and Reggio Emilia. In fact, the interactive games and exhibits at the visitor centre also draw on the principles of Loris Malaguzzi; founder of the Hundred Languages of Children. As a result, the exhibits invite children (and adults) to learn in their own interactive way. So, from a kingfisher nest crawl through to a river-themed board game, the engaging activities transform the space into an inviting realm for playful learning. There is so much to enjoy at the visitor centre and you can plan your trip at Shropshire's Great Outdoors.
Further IE interpretation papers by Môrafon
Môrafon has written further papers for IE including a feature on the interpretive soft play space she designed for the Wildfowl & Wetlands Trust. And an article, Can Interpretation Change the World?, which explored her debut trip to the Association of Heritage Interpretation (AHI) Conference in Belfast. Since then, she has presented at several AHI/IE Conferences and written an AHI benchmark feature, alongside authoring a range of articles and best practice guidelines.
More about Interpret Europe
Interpret Europe is the European equivalent to the UK's Association for Heritage Interpretation. It is an international membership association with charitable status, whose mission is to encourage dialogue on natural and cultural heritage. Annually IE publish quarterly interpretation newsletters, host a conference and also offer a range of workshops and events. Through its wide-reaching objectives the organisation has grown and presently holds around 1000 members spread across 55 countries.
Image: © Interpret Europe