Nature play interpretation is key to children's love of environment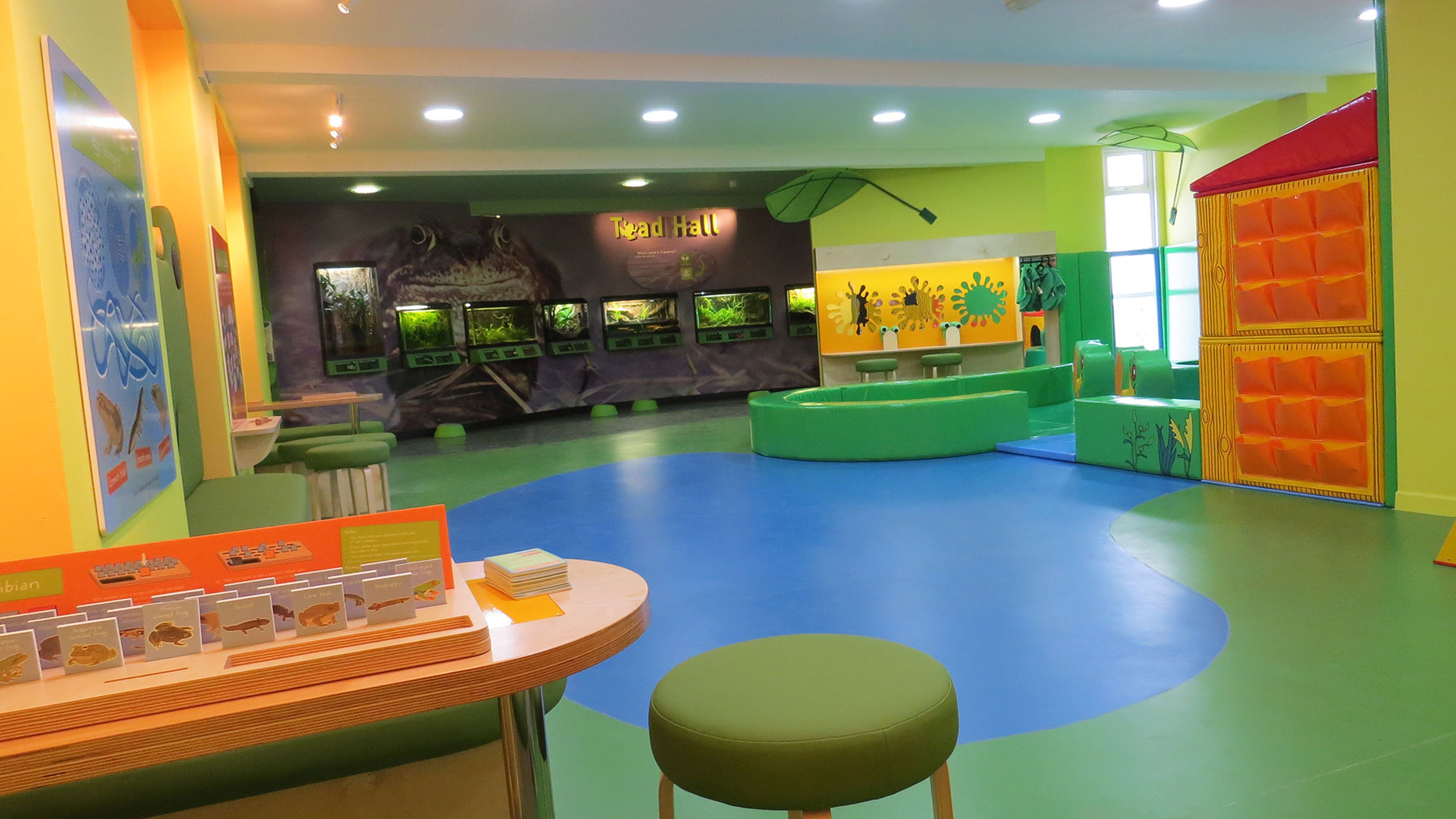 Nature play interpretation is crucial for future of wildlife
VisitMôr Director, Beth Môrafon, explains the concepts behind nature play interpretation design for the Wildfowl & Wetlands Trust in her Interpret Europe paper. Through the feature, she highlights the immersive play spaces she designed for two Wetland Centres. The first was installed at Slimbridge, Gloucestershire and the second was fitted in Castle Espie, Northern Ireland.
Learning through play
Môrafon designed Slimbridge Toad Hall to create a richer visitor experience for families and increase their love of nature. The amphibian themed interpretation features exotic species such as Red-Eyed Tree Frogs as well as native UK amphibians. Exhibits explore metamorphosis and transformation through reference to traditional fairy tales such as the Frog Prince. There are also more scientific games to play too. Kids can dress up as frogs, jump, slide, play or even sit on a frog throne.
In a tabletop games lounge, visitors can choose from a selection of classic games which are, of course, amphibian themed. These are designed for both children and adults to enjoy. Adapted from familiar classics, they include Newts and Ladders, Connect Frogs and Guess the Amphibian, for instance. Visitors are encouraged to come back from more, because the games are regularly rotated.
Play, even for a rainy day
And it's all indoors. So parents can get involved with the games, or sit back and relax, whatever the weather! With a capacity for 30 individuals, and lots to see and do, the interpretive nature play provides a year-round resource for families
"It's great to see Toad Hall buzzing in the quieter times, during school term time for example," says Môrafon. "The play space is often busy with parents and carers midweek. Similar exhibits such as Brent Play Barn in Northern Ireland saw peak visitation double!"
Tundra fun in the Brent Play Barn
Castle Espie, on the shores of Strangford Lough, is one of the only sites in the world where Light-Bellied Brent Geese winter. Reserve wardens wanted an interpretive soft play space to help visitors understand the remote summer-time story of the geese. The narrative explains how the birds migrate to the Arctic tundra each spring.
Môrafon designed the Brent Play Barn to help kids enjoy learning about the Arctic tundra. The play space is joyful and fun. Visitors play with friends and foes of the geese. The immersive interpretation encourages families to consider the plight of the species. And so, kids enjoy engaging with Arctic Fox, Arctic Hare or a giant Light-Bellied Brent Goose guarding a nest of eggs.
Intrepid explorers adventure through the vivid Arctic tundra landscape, which is complete with a research hut for study. The play experience helps cement visitors' love and knowledge of Light-Bellied Brent Geese, offering a wider global perspective on the species.
And what else might a miniature conservationist in-the-making need? VisitMôr looks forward to creating many more interpretive nature play designs, inspiring a whole world of would-be environmentalists.
Image: © Beth Môrafon