Interpretation trail for RSPB emerges after lockdown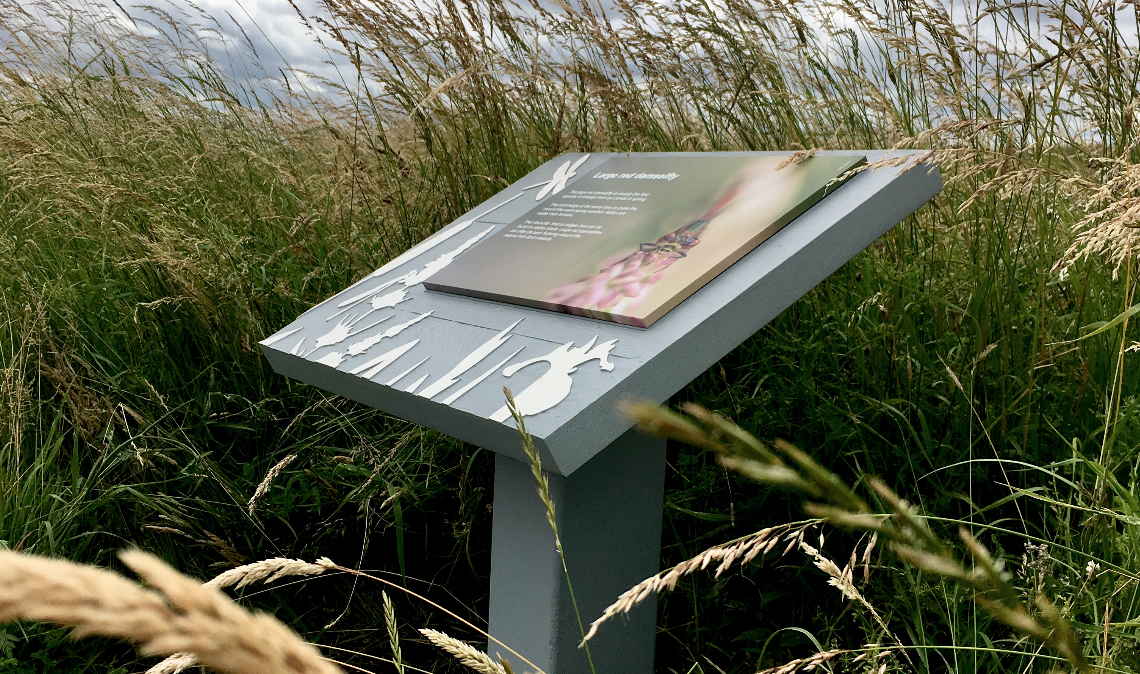 Interpretation trail by VisitMôr installed at RSPB Saltholme
This July we surfaced from lockdown with a colourful dragonfly interpretation trail for the RSPB. We travelled north to install our designs at RSPB Saltholme in Stockton-on-Tees.
Award-winning nature reserve
RSPB Saltholme is a jewel of a wetland. It's set in a landscape surrounded by industry but nature is thriving here. It hosts the largest inland breeding colony of tern in the country, which nest on cockleshell islands. And there are plenty of other species from seals to peregrine falcons. Saltholme won the Gold Tourism Award for attracting visitors to its reserve in 2018. Its dragonfly trail is another exciting element to draw nature lovers here in 2020.
Natural design aesthetic
As part of our commission for the RSPB dragonfly trail we created six lovely backboards. These were painted in weatherproof soft grey and depict silhouettes of wetland plants and dragonflies in a raised white relief design. The styling ties in with the RSPB brand but is also gentle and fitting to the landscape.
Seasonal trail
The client wanted a permanent but flexible seasonal signage interpretation trail. This included twelve interchangeable panels, which fit across six signs. The designs display beautiful photographs of different dragonfly and damselfly species and include plenty of fun facts. From hunting habits to the dragonfly's astonishing lifecycle there's plenty to entertain a wide visitor audience.
Happy clients
The RSPB are delighted with the new signs and look forward to deploying them seasonally. This will help describe the variety of dragonfly activity, which occurs on site throughout the year. "They look great, really quality!" was the first response from a local RSPB volunteer on the reserve.
Visit RSPB dragonfly trail
If you're in the local area, do stop by and take a look at the new interpretation trail at RSPB Saltholme. You'll discover more about the gorgeous damsel and dragonflies that grace the skies, skim the waters and lurk in the murky depths of the ponds. Visitors can currently access the reserve and car park at RSPB Saltholme though capacity may be limited.
Please check the RSPB Saltholme website for full details of opening hours and facilities available.
Visit more wetland sites
WWT Castle Espie Wetland Centre
RSPB Loch Lomond Nature Reserve
Story / Image: © Beth Môrafon