DayOut with VisitMôr: 20-21 Visual Arts Centre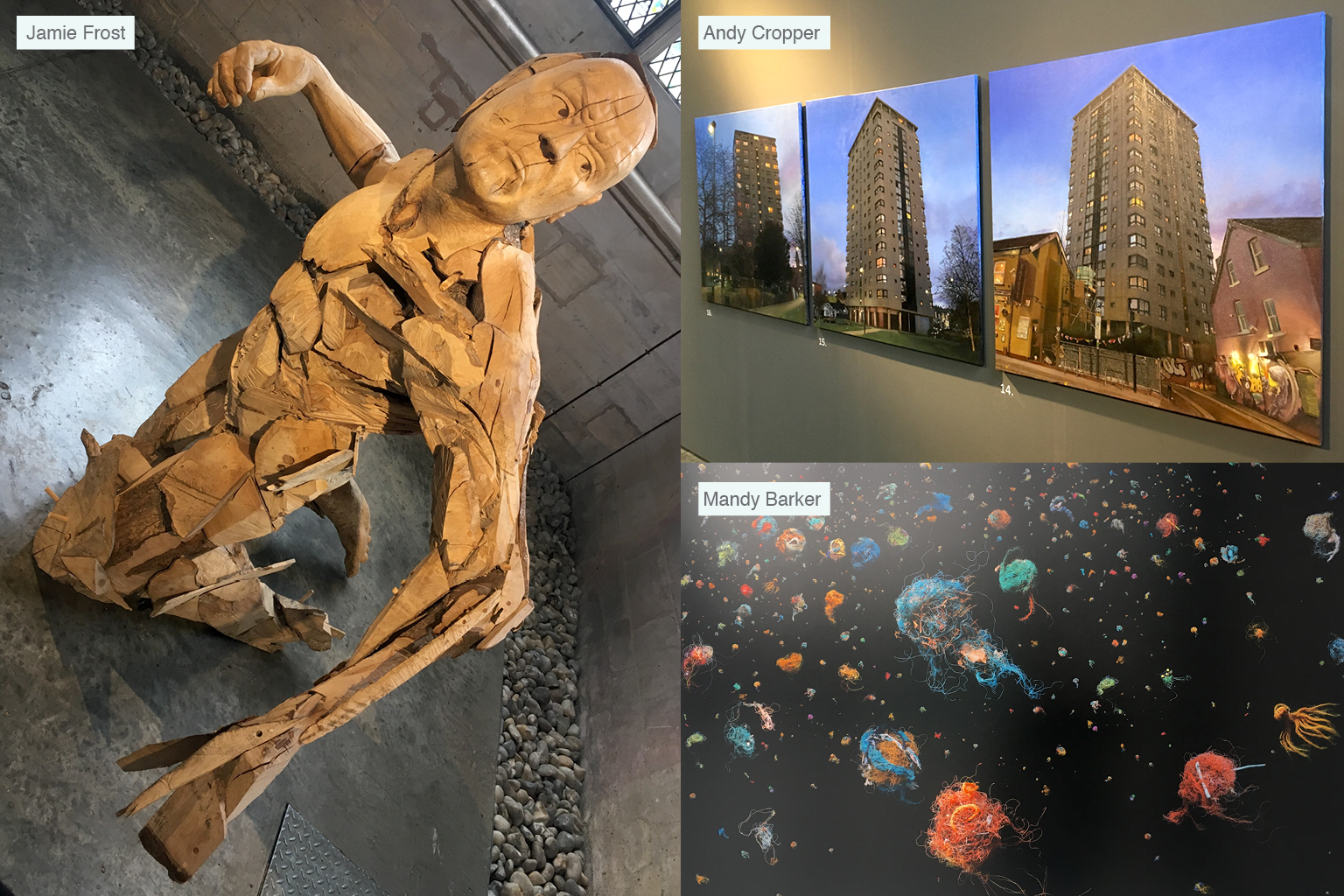 VisitMôr post-lockdown experience at 20-21 Visual Arts Centre
After our recent exhibit installations at RSPB Saltholme, I was keen to sample a post-lockdown DayOut to help break up the long journey home. Since the heavy-hearted weight of lockdown eased, and we collectively lunged into the 'new normal', this was my first visitor experience in a while.
Detour for an art tour
I was drawn to The Way of All Flesh exhibition by Jamie Frost. The very fine and sometimes raw artworks, fashioned in wood, clay and paper brought this artist to my bucket list more than a decade ago. It felt like serendipity that in the first week museum and heritage establishments had tentatively reopened, my proximity coincided with his show. I quickly booked my free tickets for the exhibition at 20-21 Visual Arts Centre in Scunthorpe and eagerly awaited my visit.
An Arts Centre welcome
On arrival, I was warmly welcomed by staff at the foyer, who introduced me to the robust safety measures in place. This included, booking in advance, logging contact details, utilising the sanitisation station and observing a simple one-way route through the Centre. I was also given instructions for using the café facilities and reminded to keep to social distancing measures.
Human connection
What makes a good artwork, a quality arts experience, or a meaningful encounter? Frost's work was powerful, visceral and human. It spoke of strength, fragility and raw emotion. It communicated in a language of beauty and disruption. Hands were hewn in chiselled hardwood. They appeared with perfect, dimpled marks over smooth wood grain skin or laid in opposing hulks of rough-sawn woodblocks. Pieces were pinned, strewn and tethered. There was a sense of contradiction in the works. These drew the viewer towards connection by interrelation, thereby wrestling with the notion of human power and all its opposites.
Empty landscapes
In addition to the work by Frost I also experienced the eerie paintings of Andy Cropper. These captured, amongst other things, the ghostliness of lockdown depicted through a set of large format tower block paintings. Alongside the other works in the show, Uncertain Spaces: Spirits of Place and Foreshadowing, captured a foreboding gloom. They seemed to speak of a weight and a responsibility held in the emptiness of the human urban landscape, and record it.
A dystopian soup?
And then there was the soup. No, it wasn't in the café, but in Mandy Barker's exhibition titled Our Plastic Ocean. Soup is the melancholy term used to describe the discarded plastic shrapnel that litters our oceans. It breaks down into tiny grains but never truly disintegrates. Here, we saw large 'soup' photographic prints adorning the walls – brightly coloured plastics arranged in mandalas on black backgrounds. They held titles like Bird's Nest or Wildlife Hong Kong Soup: 1826 and they spoke volumes about the impact of our human lifestyle on the world. Perhaps they also said something about the 'new normal' and how it must be kinder to the environment.
Contemplation in the café
Before heading home, I stopped in the café to ponder the artworks and enjoy a nice lunch in the bright white space. The ceilings were high and spacious with menus displayed in glazed tall exhibit cases – away from potentially interactive hands. It all added to the full visitor experience, which was a very enjoyable but thoughtful one. This lovely first DayOut, looking at art and installation, seemed to frame some sentiments from the year. It described human hope, force and fragility. And, as I sat and considered it all, I acknowledged that we were still only halfway through the year.
20-21 Visual Arts Centre
Everything you need to know about visiting.
Jamie Frost – The Way of All Flesh, 4 July to 3 October
Andy Cropper – Uncertain Spaces: Sprits of Place and Foreshadowing, 4 July to 3 October
Mandy Barker – Our Plastic Ocean, 14 March to 12 September
More visitor experiences
VisitMôr is a public realm and visitor experience consultancy based in the UK. Explore some of the projects which we have shaped:
DayOut with VisitMôr is a regular news feature, exploring national and international visitor experiences.
Story: Beth Môrafon / Images: © Jamie Frost/Andy Cropper/Mandy Barker